Our nephew, Jeremiah, is a well rounded "farm boy" who is passionate about agriculture and preserving the land. He cares deeply for his family and we are so proud of his accomplishments during his high school career which will quickly be coming to an end in May. Too quickly. Where did the time go?  Recently, he asked a few of us to review an essay he had written for one of his classes. As soon as I finished reading it, I just knew it needed to be published on our blog.  He clearly and efficiently tackles a very tough topic in today's food industry – GMO vs Organic.  I hope you find this information to be useful as you plan your grocery list and strive to feed your family the best food you can afford.  Please note, we support all family farmers whether they raise their food organically or conventionally.  We simply want to cancel out the "fake news" being spread about conventional farming methods.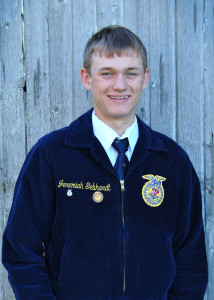 GMOs and Chemicals Versus Organic
            This past Thanksgiving my family began a debate that seemed as if it would never end. The subject has always had an extreme importance to us. That debate just happened to center around if GMOs and the chemicals used during the plant's life are truly bad for humans to consume.
GMOs are genetically modified organisms. They have been around for nearly thirty years and have impacted agriculture in many ways. Farmers have actually modified plants and crop production since 4000 BC, at least that's the earliest recording of it from the Egyptians. In 1919 the word "biotechnology" was coined by Hungarian engineer Karl Ereky but it wasn't until the 1973 were we able to successfully splice a gene from one organism and move it to another. In 1982 the first modern biotech plant was produced.  Technology simply allowed for the original process to become more precise and more efficient. As a farmer,  I believe that GMOs and chemicals are helpful and positively affect our lives and world today. They are able to help farmers produce higher yields in their crops which have helped with world hunger, lower ethanol and biodiesel prices, and help livestock farmers better feed their animals. On the other hand, others believe that genetically modified organisms and chemicals are unhealthy, add unnecessary toxins, and are harmful for our environment. The great debate is whether the positive influences of genetically modified organisms outweigh the potential health concerns and are the potential health concerns based on fact or fear.
The grand debate of farmers using GMOs has been going on for as long as they have been around. The opposing side's claim of GMOs being unhealthy truly intrigues me. In his article "Ten Reasons to Avoid GMOs" Jeffrey Smith claims GMOs are unhealthy because of organ damage, gastrointestinal and immune system disorders, accelerated aging, and infertility.  He also states that GMOs are unhealthy because the science community has seen a higher increase of chronic illnesses, food allergies, and disorders such as autism, reproductive disorders, and digestive problems. After making these accusations, Jeffrey Smith admits there is no research to prove that GMOs are the leading cause of this increase of disorders.  His only link to the rise in health concerns is the timing of an increase in GMO usage.  He does not have evidence to support his hypothesis.  If he cannot prove what he is claiming then what validity is there to his statement? It could simply be that technology advanced rapidly at this time causing GMOs to be made possible while at the same time the medical field gained the ability to better test and diagnose chronic pain and disease. Genetically engineered food undergoes substantial research and testing before reaching the consumer. In 2012, the American Association for the Advancement of Science released an official statement regarding genetically modified foods, stating "the science is quite clear: crop improvement by the modern molecular techniques is safe."  In fact, some genetically modified food is even more nutritious than their non-GMO counterparts, according to Dr. Peggy Lamaux, a Cooperative Extensive Specialist at the University of California-Berkeley. She further explained, "An example is low linoleic acid canola oil that can reduce trans-fat content."
Many people who are anti-GMO believe that genetically modified organisms add unnecessary toxins to maternal and fetal blood. There is a counter article to this concern titled "10 Studies Proving GMOs are Harmful? Not if Science Matters" by Layla Katiraee stating that they do not. Layla Katiraee points out that anti-GMO researchers reasons are incorrect, because their measurements were based on an experiment trying to find Bt's Cry1Ab in plants not in humans. In order for the study to be correct, pregnant women would need to eat several kilos of corn in order for the Bt measurements to be found in the woman's blood. There is also the thought that it would not be toxic to humans either way. For example, it is how chocolate is toxic to dogs but humans do not need to worry about the fear of chocolate being toxic. Even though they have found a small amount of toxicity in GMO plants, there is no evidence of the genetically modified organisms being more toxic to humans than organic food.

The environment also benefits by using GMOs. In 2014, a company named PG Economics finished a study that concluded with finding positive environmental and sustainability impacts from GM crops. In the study, they used previous and new data, and compared the difference genetically modified organisms have made on the environment and how GMOs were able to grow more crops on less farmland. During this study, they found that genetically modified crops were able to significantly reduce the amount of greenhouse emissions from agriculture practices by using less fuel and additional soil storage with the reduction of tillage practices.  In 2012, carbon dioxide emission savings were equal to removing 11.88 million cars off of the road. Also with this study, they were able to prove that GMOs are able to grow more crops with less land. They found this very important because the amount of farmable land is declining significantly. They predict that in a 90 year time span we will have a third of the amount of acreage farmland per individual. This study proves a couple of the many positive effects of genetically modifies organisms that organic foods do not have.
Another area of concern for there being toxicity is in the chemicals that are applied to the crops such as Roundup. Many people who are anti-GMO and anti-chemical believe that crop farmers drown their crops, which would create extra toxicity in the crop. In an article covering this myth by corn and soybean farmer, Dave Walton, he puts how much chemicals farmers add to their fields into perspective. He states that corn farmers, on average, add half a gallon of herbicide spread out over one acre yearly which is roughly a football field. That would also equal to being one-third of a drop of chemicals per square foot. For soybean fields the amount of chemicals spread is even less. Farmers put on yearly an average of a pint and a half plus a couple tablespoons of herbicide per acre. This would equal one twelfth of a drop per square foot. The amount of chemicals added to a field is not near enough to add any concern of any toxins being added to the crops and especially the food that is presented at your table. Since chemicals added to GMO crops do not add near enough toxins to be more dangerous and more unhealthy than organic foods, genetically modified organisms do not lose the battle of having unnecessary toxins added.
The family discussion at Thanksgiving showed how the great debate over GMOs is often more based on emotion rather than on facts.  A simple fix for human illness is ideal, and when a fix cannot be found a quick cause to blame is often sought.  When emotion is removed and facts are focused upon, GMOs seem to be more positive than negative for our local community.  GMOs give today's farmer the potential to produce more grain on less land, with no scientifically proven health concerns, and the bonus of helping the environment at the same time.  The facts show GMOs and chemicals are positive for farmers, consumers, and the environment.
By Jeremiah Gebhardt
References:
Smith, Jeffrey. "10 Reasons to Avoid GMOs – Institute for Responsible Technology." Institute for Responsible Technology, 14 Mar. 2016, web.
Katiraee, Layla. "10 Studies Proving GMOs Are Harmful? Not If Science Matters | Genetic Literacy Project." Genetic Literacy Project, 1 July 2016, web.
PG Economics. "Beyond the Rows." New Study Shows Positive Impacts from GM Crops | Beyond the Rows, Monsanto Co, 15 May 2014, web.
Walton, Dave. "GMO Myth: Farmers." Genetic Literacy Project, Genetic Literacy Project, 24 Mar. 2015, web.
Licklifer, Lauren. "GMO Foods – CommonGround." CommonGround, findourcommonground.com/food-facts/gmo-foods/.
Top