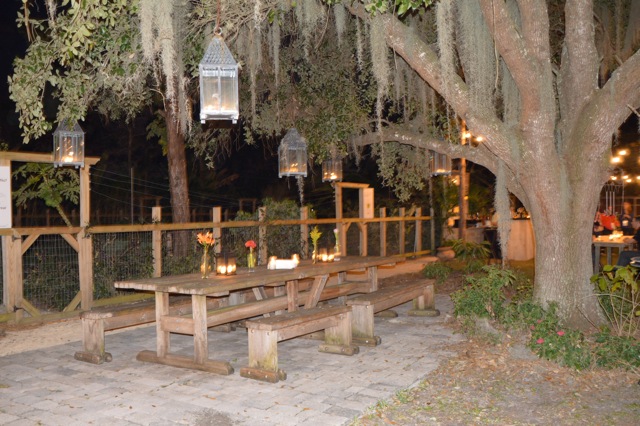 During Growth Energy's Executive Leadership Conference held in Orlando following the Daytona 500, Randy and I were attending the reception and watching the live auction when he noticed we were standing a few feet behind the table where Iowa's Governor Terry Branstad and his wife and son were seated. Randy went on to enlighten me on the fact that Gov. Branstad is the longest nonconsecutive serving governor in the nation and that he has been a tireless supporter of ethanol. (Just ask Sen. Cruz about that.) I nodded like wives do and continued watching the stage where The Bachelor star Chris Soules, American Ethanol driver Austin Dillon and Minnesota Vikings linebacker Chad Greenway were helping the sponsors by "Amping" up the auction. As the three hunks were hamming it up on stage, the Governor stood up and looked around, walked over to where we were standing, introduced himself and began visiting with us. His sincere and friendly demeanor made me realize why Iowans elected him to the Iowa House of Representatives in 1972, 1974, and 1976, then as Iowa's lieutenant governor in 1973. He was Iowa's longest-serving governor, from 1983 to 1999, weathering some of Iowa's worst economic turmoil, during the farm crisis of the '80's, while helping lead the state's resurgence to a booming economy in the 90's.  Following his four terms as governor, he went on to serve as president of Des Moines University for a six-year tenure. Seeing a need for change in the way state government operates and wanting to "lead Iowa's comeback", Branstad retired from DMU, began campaigning and  was re-elected governor in November of 2010 and again in 2014.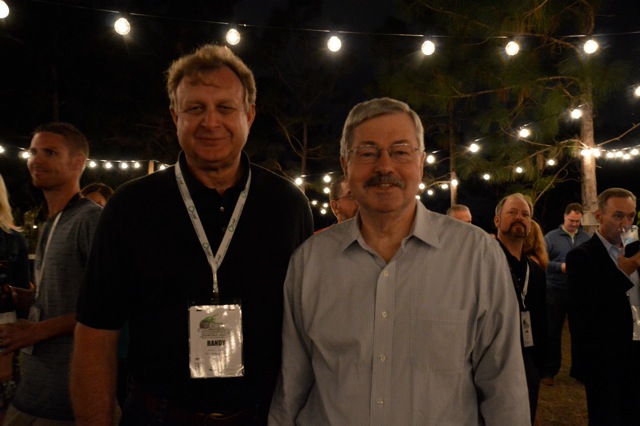 There we were attending an outdoor barbecue at Whispering Creek Farm on the property of the J.W. Marriott Hotel and visiting with the nation's longest serving governor. Party lights were strung across the rustic tables and candles flickered in lanterns hanging from trees with the mouth-watering aromas of beef brisket, chicken and pork and roasted on open flame grills and tempting deserts of cobblers and puddings beckoned. There was even a campfire for the fanciest s'mores I've ever seen.
I asked the governor if he had enjoyed his dinner. He smiled and said, "I had dinner in the White House last night. It was a banquet for the nation's governors. I was fortunate enough to be seated at the First Lady's table."
I was visiting with someone who had eaten a meal with Michelle Obama, the woman who has changed school lunches and had a very different definition of "healthy" foods than most dietitians I have heard comment.
I gasped!
"What was it like?" I asked.
The kind governor must have thought I meant the ambiance or the decor because he answered, "The centerpieces were huge" and I don't remember what else he said.  As soon as I could I tried again I asked,
"What was on the menu?"
"We had seafood as an appetizer."
I nodded. Yes, I would expect that from the woman whose priority was taking red meat out of the 2015 Dietary Guidelines.  The guidelines that would be used in every hospital, school and government office that receives federal revenue.
I held my breath and my tongue.
The Governor continued.
"And we had beef for the main course."
With great self-control, I made sure I had heard him correctly. "Mrs. Obama served beef at the banquet?"
The kind and patient Governor nodded and added. "There was dessert, too, but I didn't eat that. I have to be careful about my sugar intake since my parents had diabetes. He went on, not once disparaging the First Lady's diet, merely stating the truth of the matter. "It is not harmful to eat small portions of red meat."
Thank you, Governor Branstad! And thank you, Mrs. Obama for serving red meat in the White House. As a former hospital administrator, the First Lady surely recognizes the dietary value of red meat after all!

– Karla Britt, wife of Randy, mother, grandmother, blogger for Beef Stew with a Twist and staff writer at CV News Press.
P.S. Need a new beef recipe to try? Check out our recipes section on the
blog
!
Top