Steve Murphy, General Manager of POET Bio-refining's Macon and Laddonia plants, and Growth Energy Delegate Randy Britt were among the 200,000 NASCAR fans in attendance when baseball legend Ken Griffey Jr. waved the American Ethanol green flag to start the 2016 Daytona 500 on Sunday, Feb. 21. An official partner of NASCAR since the 2011 season, Growth Energy, an ethanol industry group, with the National Corn Growers Association developed the American Ethanol platform to increase awareness of the value of American-made ethanol. As part of the partnership, NASCAR vehicles are fueled by Sunoco Green E15, which is comprised of 15% corn-based ethanol. Growth Energy is also a sponsor of NASCAR driver Austin Dillon, Richard Childress and the entire RCR team to help promote homegrown ethanol as a major win for the American people.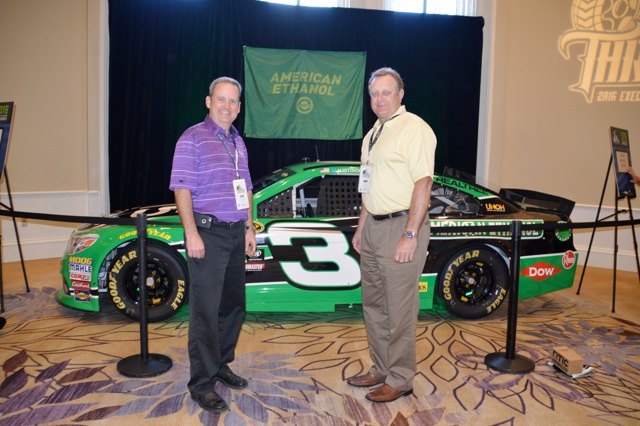 During the advocacy group's Executive Leadership Conference held in Orlando, Fla., Feb. 20 – 24, to coincide with the Daytona 500 where Dillon finished in the top ten, Growth Energy's Co-chair Tom Buis issued the following statement on the recent Renewable Fuel Standard Hearing:
"Biofuels, such as ethanol, are a 21st century fuel for 21st century vehicles. It is our only alternative to oil, and the RFS is the most effective policy in reducing cancer-causing chemicals and the toxic emissions that come from oil's monopoly on our motor fuel supply. The RFS supports consumer choice, creates hundreds of thousands of jobs across America, strengthens our energy security and slashes climate change causing emissions.
"Policies like the RFS improve America's climate, national security, rural economy and consumer choice. Repealing or changing the RFS would turn back the clock and undermine the progress we've made toward increasing America's energy independence and cleaning our air and environment."
Murphy said his biggest takeaway from the conference was the push toward E15 and higher ethanol blends.
"E15 and higher ethanol blends are not a mandate, but another option for consumers and a great way to get higher octane fuels at a lower cost. Many cars now specify higher than 87 octane in the owner's manual and 113 octane ethanol is the cheapest way to provide these fuels to consumers," Murphy said.
"The battle for market share with the oil industry will continue in Washington and at the state level going forward. Cheap oil has only increased the resolve of the oil industry not to lose sales by giving consumers more ethanol choices at the pump."
Murphy became general manager of the Laddonia plant in 2009 and began leading the Macon team in June of 2013.  A St. Louis native, Murphy earned his Bachelor of Science in Chemical Engineering from the University of Missouri – Rolla. Before joining POET he spent 21 years gaining manufacturing and management experience with the Woodbridge Corporation. While at Woodbridge, Murphy worked at five different locations that included Plant Manager responsibility at locations in Australia, Detroit and Chicago. Steve and his wife, Kristy, and their son reside in Columbia.
"POET has grown to be the largest ethanol producer in the world and you do not achieve that status without innovative technology and attention to detail by all members of the team. I consider myself very lucky to be a part of an organization with such a tremendous history and such great potential going forward," Murphy said.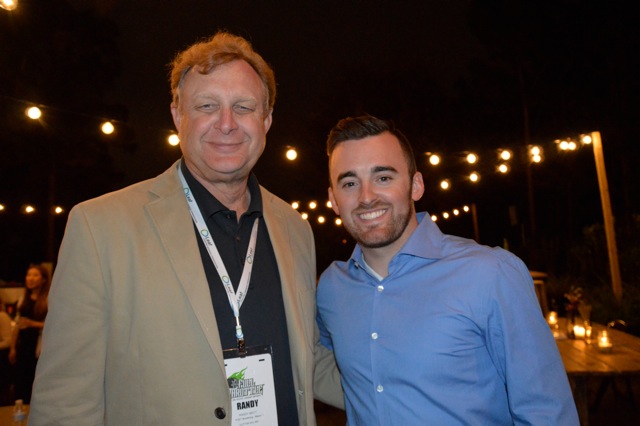 The first ethanol plant in the state of Missouri, the Macon plant produced its first ethanol in May of 2000, starting with an annual production capacity of 15 million gallons. Three years later, the plant expanded its capacity to 46 million gallons per year and added the production of Dakota Gold Distillers Grains and carbon dioxide. Today the plant produces over 46 million gallons of ethanol annually. The plant employs 45 people and 14 of the original 27 employees still work at the plant while four others are employed at other POET bio-refineries. The Macon plant remains over 80 percent owned by local farmers and investors.
American Ethanol will be the primary sponsor for Dillon during the 2016 Sprint Cup Series season: March 20 at the Auto Club Speedway, California; May 7, Kansas Speedway, Kansas; July 31, Pocono Raceway, Pennsylvania; Sept. 4, Darlington Raceway, South Carolina; Oct. 23, Talladega Superspeedway, Alabama; and Nov. 13 at the Phoenix International Raceway in Arizona.
 Written by Karla Britt and was originally published in the Chariton Valley News Press
Top